Contents

1. Introduction
The aim of this policy is to provide a framework for the professional supervision of all staff working in Kent County Council Specialist's Children's Services and the Disabled Children and Young People's Service. The policy sits alongside the national Knowledge and Skills Statement for Approved Child and Family Practitioners and the Knowledge and Skills Statement for Practice Leaders and Practice Supervisors, which set out the expectations of professional practice and the basis for accreditation within Children and Families Social Work.
The policy is in line with the recommendations of the Children's Workforce Development Council(1) and the work of Eileen Munro(2) and embeds the Signs of Safety model within supervision practice in Kent. The principle aim is to ensure that it meets the needs of the service, the staff and their supervisors regardless of the area in which they work and sets out the minimum practice standards regarding the organisation's expectations of supervision. The policy document should be read in conjunction with the related Supervision Practice Guidance and Policy Standards documents and sets out our aims to support the provision of Supervision for Quality.
(1)Providing effective supervision, Skills for Care and Induction Standards for Children's Workforce 2007
(2)https://www.gov.uk/government/publications/munro-review-of-child-protection-final-report-a-child-centred-system

2. Policy Statement
Kent County Council Children, Young People and Education Directorate are committed to ensuring that every member of the Social Care workforce receives good quality effective supervision on a regular basis. It recognises that the delivery of Social Care Services is a complex and demanding task and that staff are the key asset within the organisation in delivering high quality services that make a meaningful difference to service users lives. Professional supervision, whether for new or experienced practitioners or managers, is critical to the way in which this can be achieved. This policy sets out the expectations of how staff should be supervised and guides managers in the key elements needed to supervise staff in all relevant settings effectively.

3. Scope of this Policy
This policy applies to:
All staff employed by Kent County Council Specialist Children's Services and the Disabled Children and Young People's Service whether on a temporary (including agency staff), permanent, full time or part time basis;
Supervisors employed by other agencies or Directorates with Kent County Council with responsibility for the supervision of Specialist Children's Services and Disabled Children and Young People's Service staff.

4. Definition of Supervision within the Performance Management Framework
Individual performance management within Kent County Council's Children, Young People and Education Directorate, involves three interconnected elements:
Supervision

- a regular one to one meeting between the supervisor and the supervisee in order to meet organisational, professional and personal objectives;

Appraisal

- an annual meeting (reviewed six monthly), the aim of which being the review of objectives set the previous year, to set measurable objectives and/or targets in line with the teams objectives and/or targets for the coming year and to have the opportunity to identify future learning and development needs;

Development Plans

- this forms part of the appraisal process and aims to encourage the supervisee to identify and evaluate learning that has taken place during the previous year and plan for learning and development opportunities for the coming year. A six monthly review will be conducted to ensure that the plans are still relevant and up to date in accordance with any changes, e.g. in working practices.

5. General Principles of Supervision for all Staff
The BASW definition of supervision includes the definition and description of supervision in the Skills for Care and CWDC guidance on supervision. Supervision is a regular, planned, accountable process, which must provide a supportive environment for reflecting on practice and making well-informed decisions using professional judgement and discretion. Supervision should enable workers to:
Be accountable for their practice and ensure quality of service for people who use services within legislation, codes of standards and ethics;
Uphold professional standards;
Build purposeful, professional relationships and communicate effectively;
Make sound professional judgements based on good practice;
Manage risk and protection alongside their duty to respect rights and address need;
Reflect on, analyse and evaluate their practice;
Manage the emotional impact of their work;
Share, debrief and identify any further required resources to address responses to stressful situations;
Challenge constructively in the interests of client, worker and agency;
Develop the knowledge, skills and values required for their own role, professional development and as part of an integrated, multi-professional or multi-agency team or service;
Contribute to research and use knowledge and experience to explore new ways of working;
Identify and manage stress factors that may impinge on the worker, service user or agency;
Ensure peer and management review of professional decisions and to encourage mutual learning and development;
Communicate with their line manager on organisational issues;
Manage realistic workloads and caseloads.
With this in mind Kent County Council recognises and acknowledges that supervision is both an implicit and explicit element of all social work discussions and should be considered as such. It is important to recognise that supervision does not occur only as a stand-alone event but as a continuum of daily social work practice. The supervision process is a key part of the performance management framework, and the recognition and understanding of the extensive sources of performance feedback will serve to enrich and strengthen formal supervision (see Quality Assurance Framework Procedure). Discussions held and recorded during supervision will form part of the appraisal process.
In addition to formal 1 to 1 supervision arrangements, the continuum of supervisory support and oversight will include 'informal' impromptu supervisory discussion between formal sessions and may also incorporate case and practice discussion within local group supervision arrangements. The impromptu or group supervision processes do not and should not replace formal, planned 1 to 1 supervision arrangements, although both are valuable as complementary practices. In addition to the above, Kent Specialist Children's Services operates a system of managerial oversight and tracking of case work via a Case Progression system (see Case Progression Policy), which complements the understanding provided by Team Operational Dashboard reports. Case progression of work allocated to staff is monitored both individually through direct supervision and through team Case Progression Meetings and is an important aspect of the management and support functions of supervision.
As with other aspects of social work practice in Kent, case-discussion regarding children and their families should incorporate the use of Signs of Safety thinking.
The attributes and considerations for each type of supervisory input are outlined below.

6. Formal 1 to 1 Supervision
Formal 1 to 1 sessions form the central tenet of the supervisory process in children and families social work practice. Although complemented by other supervisory supports as outlined above, the consistency provided by the supervisor-supervisee relationship provides a safe base for considering issues and concerns, as well as practice reflection and learning.
Supervisors are reminded of the need to ensure that as part of the supervisory process, a worker's practice is cross referenced against the competencies outlined in the DfE Knowledge and Skills Statements for Children and Families Practitioners, in line with their role and position in the organisation and that opportunities for ongoing learning and development are identified.
A useful link is to support the mapping of this process is Knowledge and Skills Statement for child and family social work: Mapping Resource (Research in Practice).
It is an expectation that from time to time, the supervisor will observe each worker undertaking direct practice by way of 'live supervision'. The frequency of such observation and degree of support offered during these sessions will be dependent on both the experience of the supervisee being observed and the complexity of the work being undertaken. Such sessions provide a unique opportunity to support supervision in all its functions, from managerial oversight of development and practice competence, through to the support and understanding of complex case interventions. In addition to enhancing opportunities for direct feedback, live supervision may also complement the development of skills and learning through agreement to co-work sessions and directly model alternative approaches to practice. It is recommended that live supervision is supported by the understanding and use of established practice frameworks such as the York Model (see Supervision Practice Guidance) to enable both supervisors and supervisees to get the best out of this shared process.
There are a variety of supervisory tools and models available to support sound, reflective supervision (e.g. Wonnacott's 4x4x4 Integrated Supervision Model, as discussed in the supporting Supervision Practice Guidance link). A good supervisory relationship helps to build trust and confidence, through which wider team and group discussions promoting shared learning and team cohesion can flow, in multi-way process.
Diagram: Supervisory Interplay within Children's Social Work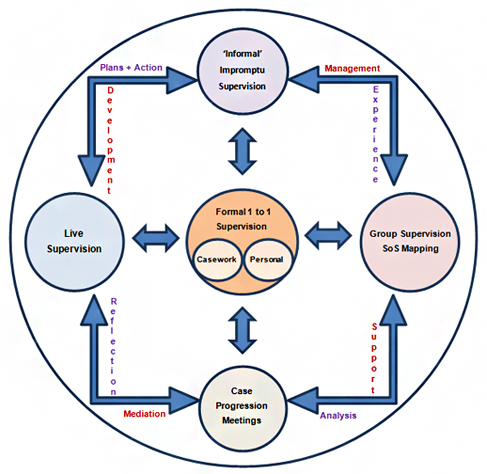 Recognising supervision as a core mechanism to help social workers reflect on their practices, Kent County Council remains committed to providing regular planned supervision to all staff employed within Specialist Children's Services and the Disabled Children and Young People's Service.
6.1 Frequency and Duration of Formal Supervision Sessions
Minimum requirements for supervision arrangements should consider the supervisee's level of experience and competence, as well as any particular circumstances that apply to the supervisee that mean they may require more frequent supervision (e.g. a difficult piece of work, the level of risk associated with work, personal difficulties or relationships, performance issues or levels of stress).
The minimum frequency for supervision within Specialist Children's Services and the Disabled Children and Young People's Service is as follows:
Newly Qualified Social Workers must have fortnightly supervision sessions for the first six months of their professional practice. This may become three weekly for the remainder of their first year of practice. It is the supervisor's responsibility to judge the worker's level of competence, although the decision should take into account how well the NQSW is progressing against their development plan, including the requirements of the ASYE Programme and the Professional Capabilities Framework. Supervision should not be adjusted to be less frequent if the supervisor has not observed at least one direct piece of work and judged it to be at an adequate level.
Any NQSW who is appointed must additionally be available to attend all training, mentoring and support groups along with their peers as part of the ASYE programme. The Team and Service Managers are responsible for ensuring that these arrangements are in place and adhered to during the worker's first year of practice.
During this first year it will be important for the supervisor and supervisee to ensure that they record information which can be used as part of the record which will contribute to ASYE assessment at the end of the first post-qualifying year.
It is essential to recognise that workers in this early stage of their career will require additional support and oversight and as such may require and should be offered informal and impromptu supervision between formal 1 to 1 sessions.
Social Workers, Practitioners, and Team Managers must have at least monthly supervision. 
Social Workers appointed from outside the UK should be offered supervision as NQSW's for the first three months of their appointment regardless of how experienced they are or how long they have been qualified. Supervision frequency should only be adjusted when the supervisor is satisfied, via observed practice, that the worker is meeting the required standard of practice.
Experienced Social Worker's transferring to Kent as new workers from another UK Authority/Agency should be provided with supervision at a minimum frequency appropriate to their position as above. However, managers should ensure that at the commencement of their contract, they are also provided with additional formal supervision time to explore and appraise their level of skill and experience, to consider the supervision agreement and to discuss expectations and arrangements for induction. Discussion that takes place during this time should also inform agreement regarding onward frequency of regular formal supervision (at a flexible level and appropriate to their needs), particularly as they settle within their new role.
Social Work Assistants and other Parenting Support Staff employed by Specialist Children's Services (non-administrative) must have at least two weekly supervision by an experienced qualified Social Worker or Senior Practitioner for their first three months of employment. Supervision may become monthly thereafter providing the supervisor judges this appropriate. Group supervision for this group, is recommended to take place at least every three months. It is the responsibility of the relevant Service Manager to ensure that this takes place.
Where more than one member of staff works with a child/family or across a sibling group (for example siblings in different placements or held by different teams), regular joint or group supervision should be undertaken. The frequency of this can be arranged at a local level but all relevant supervisors must ensure that they and their supervisees are familiar with the plans and case work decisions being taken across all aspects of the children's care and interventions with the family.
Unqualified Case-Holding Social Work Assistants (Disabled Children and Young People's Service)
- Where a finance-only or low-level Child In Need case is held by an unqualified SWA in the Disabled Children and Young People's Service, it is the Manager's responsibility to ensure that regular supervision takes place (minimum 2 to 4 weekly, in agreement between the manager and SWA and dependent on the complexity of the intervention and experience of the SWA), to support and oversee the work being undertaken. Decisions regarding the arrangements for and frequency of supervision for each case-involvement will be clearly recorded within the supervision record held on the child's file, including any relevant rationale.
The supervision of part-time staff should follow the same frequency patterns as for full time staff and should not be scheduled on a pro rata basis. Local arrangements can be reached for staff who work for 15 hours or less per week, but these must be agreed by the relevant Team and Service Manager.
Agency and temporary staff should receive supervision in the same way as permanent staff.
Formal supervision sessions for all staff should be at least one and a half hours long.
Agreed and scheduled supervision sessions must be given priority over other activities and should not be cancelled unless there are exceptional circumstances which affect the core business of the organisation. Where necessary to postpone a supervision session, it should be rescheduled at the earliest convenience and reasons for the postponement noted in the worker's Personal Supervision file.
If a supervisor is absent from work for a long period (over one month) the senior manager must ensure that effective arrangements are in place for supervision of the staff in that team. It is the overall responsibility of the Service Manager to ensure that appropriate alternative supervisors are identified to cover for any long term absence.
Any permanent deviation from the recommended frequency detailed, must be by agreement between both parties and the reason for the decision clearly recorded in the Individual Supervision Agreement approved and signed by the Service Manager, as well as the supervisor and supervisee.
6.2 Individual Supervision Agreements
The negotiation and use of Individual Supervision Agreements is an essential and required part of establishing and reviewing the supervisory relationship. The Supervision Agreement outlines 'ground rules' as well as clarifies rights and expectations for both the supervisor and supervisee, thus supporting a safe, secure and effective relationship.
Each Individual Supervision Agreement will be different and should be regarded as a "living" document that is reviewed and updated according to the changing needs of the supervisee. As a minimum, the agreement should be reviewed annually.
(For support in developing supervision agreements see Supervision Practice Guidance)
In some circumstances, staff employed by Specialist Children's Services or the Disabled Children and Young People's Service provide regular professional advice, support and consultation to community-based staff employed by other agencies, directorates or divisions of Children, Young People and Education. In all such cases, a supervision agreement should be drawn up which accurately reflects the line management accountability for the individual's work including any case work decisions taken.
6.3 The Allocation of Supervisors
All qualified front line social workers will be supervised by a Team Manager or Service Manager.
All Senior Practitioners and Managers will be supervised by a supervisor who is at least one level higher than them in the line management structure.
All staff appointed into a supervisory position should undertake appropriate training to enable them to fulfil their supervisory responsibilities and should be observed on a regular basis (either on a peer-review or management basis) to support sound Supervision for Quality.
All Social Work Assistants will be supervised by an experienced member of their team. For staff working in statutory social work settings that will mean an experienced social worker or senior practitioner.
In line with the recommendations of the Social Work Task Force, the least experienced social workers should be supervised by the most experienced supervisors. Newly Qualified Practitioners should not be supervised by newly promoted and inexperienced supervisors, however extensive their social work experience is.
The high frequency of supervision for NQSW's will ensure that supervisors are able to make informed decisions at an early stage about the development needs of the worker and to feed this into the ASYE assessment process. All NQSW's can expect that a Personal Development Plan will have been drawn up within the first month of starting in their role, which will include areas of future development highlighted in their final placement report. If during this period, any performance-related issues are identified, these concerns will be explained to the worker and senior managers, to enable an appropriate action plan to be put into place.
It is expected that the supervisory workload ratio should be 5 to 7 supervisees per supervisor. The Team case-load for each manager should reflect the Authority's agreed parameters to ensure safe and effective managerial oversight. It is the Service Manager's responsibility to ensure that supervisors have adequate time and capacity to fully satisfy the embracing nature of supervision in its truest sense and they must assure themselves of both quantity and quality requirements.
It is the responsibility of the Team and Service Managers to ensure that the appropriate level of supervisory experience is matched with the experience, knowledge and skills of the individual members of staff needing supervision. In the event that the allocation aspect of the supervision policy is not followed, this should be clearly recorded in the individual's supervision file and agreed by the Service Manager.
Where less-experienced practitioners are given the opportunity of shadowing more experienced staff as part of their professional development (e.g. NQSW's shadowing an experienced social worker in CDT), they should always remain the responsibility of their home team and allocated supervisor.

7. 'Informal' Impromptu Supervision
Supervision should not be confined to the formal 1 to 1 supervision arrangements outlined above, but should be seen as part of a continuum of support and oversight offered to staff. The nature of social work is such that staff often have to "check something out" with a supervisor, obtain a decision or gain permission to do something in between formal supervision sessions. In addition, staff who work closely with their supervisor will be communicating daily about issues, problems arising, and changes in policies and procedures. This additional impromptu supervision and consultation with managers and supervisors outside of formal arrangements, ensures staff can respond to the unexpected and complex needs of and decisions within their case work. Whilst it is likely that less experienced staff may require more frequent support and consultation with supervisors, it is important to remember that making safe decisions for and with children and their families will require collaborative working, debate and agreement at all levels of practice and managers and supervisors should operate an 'open door' approach for staff to seek advice whenever needed.
Although the nature and spontaneity of impromptu supervision leads to an informality of process, it is essential to remember that it sits within a complementary framework for the oversight and management of social work for individual children and their families. As such, all discussions and decisions that are in response to the need for social work intervention with or on behalf of children, must be formally recorded in the child's case file on Liberi as an additional supervision record or as a Case Note: Manager Discussion/Manager's Comments, dependent on the context, nature and depth of discussion. Information relating to more than one child in the family should be copied to all the children's Liberi records so that each child has a contemporaneous record of any decisions made which affect the whole family.
The responsibility for recording unplanned and impromptu supervision rests with the supervisor. Written notes may be provided to an administration officer for input; however the record must be checked and signed off by the responsible manager.
Any decision made by senior staff with regard to a child or family in which they are not the named supervisor for that case worker must also be clearly recorded in the child's Liberi record in the form of a Case Note. The designation and role of the senior staff member on that day must also be clearly recorded.
Where impromptu supervision takes place in response to the need for discussion around a personal matter for a staff member, this should be recorded by the supervisor/manager on the worker's Personal Supervision file.

8. Group Supervision
Group Supervision should also be viewed as complementary to formal supervision. It involves a group of staff all with the same or similar tasks, meeting with a supervisor to discuss issues about their work or the way they work together as a team. This may be done in the context of a regular team meeting or as a separate session to look at specific issues.
Group supervision should be considered for staff with all levels of experience, as an additional method of delivering professional development, learning and support, of sharing expertise and ideas and for the collaborative mapping of case-work within the Signs of Safety model of social work that is commonly used across children's social work in Kent. Within the Signs of Safety model, the shared contribution to case work via Mapping will also significantly benefit children and their families.
Group supervision should be utilised flexibly and creatively both within and across district teams and services. More experienced Social Workers, Senior Practitioners and Managers should take responsibility for agreeing the organisation and delivery of group supervision within their service area and according to the needs of their staff and of the children and families with whom they work.
As with other forms of supervision, all discussions that are in response to the need for social work intervention with or on behalf of children must be formally recorded in the child's case file on Liberi, as an additional supervision record. The recording of these discussions and any decisions made are the responsibility of the Team Manager who should ensure that relevant information is recorded through the use of the group supervision template.
Click here to view the Case Supervision Record
9. Management Oversight - Quality Assurance of Social Work Practice and Case Progression
This section should be read in conjunction with the Quality Assurance Framework Procedure which identifies the quality assurance tasks for all managers with regard to the social work task and with Kent's Case Progression Policy.
In order to be effective, the supervision process requires that monitoring and quality assurance arrangements are in place. Supervisory function thus includes the management oversight of work, to ensure both the timeliness and quality of interventions. This oversight is supported by the use of Team Operational Dashboards which enable clear analysis of data relating to the timeliness of work being undertaken for individual case-workers and for the team as a whole. Additionally, Kent Specialist Children's Services operates a system of oversight, tracking and support of case work via team Case Progression Meetings (see Case Progression Policy), which are held weekly to discuss the progress of intervention with children allocated to the team using the Signs of Safety model of practice. Within this process, work being undertaken with individual children and their families is discussed, highlighting areas of 'stuckness' and inviting team support in exploring alternative ways forward. All significant discussion and decisions for children which result from the Case Progression Meeting process must be recorded on the child's Liberi Case file as a Case Note.
Case Progression Meetings are quality assured both within the Service and via the Safeguarding Unit using a standard Quality Assurance tool.
Supervisors should regularly review each worker's caseload and ensure that there is appropriate management oversight and progress on the implementation of plans. It is acknowledged that it may not be possible to review a worker's entire caseload during each supervision, however newly allocated work must be discussed and every on-going piece of case-work should be considered within a maximum three month period. It is the supervisor's responsibility to ensure that this takes place.
The responsibility for managerial oversight of the quality of social work practice is and should be a continual process. In addition to discussions during formal and other supervisions, as discussed above (during which managers should be overseeing thinking, analysis, decision-making and planning around children and their families), managers have a responsibility to read, quality assure and agree the assessments, plans and reports put forward by social workers on behalf of the child. Managers are required to sign off these written documents via Liberi, but should only do so when they are satisfied that they agree the content is appropriate to the needs of the child. This process (along with additional completion of strategy discussion and decision-making documents where escalation to Child Protection is necessary) will form part of the supervision record for the social worker and will serve as a formal record of case work decision making for the purposes of case file auditing.
Team Managers are expected to directly audit case files for staff through the county Peer Review On-line Case File Audit Guidance.
In line with their quality assurance function, managers are also expected to review case records in order to familiarise themselves with day to day practice activity. Any worries relating to practice identified as a result of this (or any other) process, must be discussed as a matter of priority with the worker responsible (and for child protection and risk concerns, as a matter of urgency), with a view to practice decisions and action being re-directed as appropriate.
If performance-related issues are highlighted (whether through case audit or other means), managers should seek to undertake more detailed audit and evaluation. Where concerns of capability or unsafe practice are identified, these should be explained to both the worker and to senior managers to enable an appropriate action plan to be put in place.

10. Case Allocation
Allocation of case-work must be undertaken via a face to face meeting/discussion between the supervisor/manager and the staff member, during which the required actions, including assessment planning, will be discussed and agreed. This includes for work being allocated within CSWTs during 'duty' periods.
In allocating case-work, consideration should be given where possible, to the experience, expertise, development needs, and current work-load of the staff member, to ensure appropriate 'fit' to the intervention required. Where the worker (for example to support their skill development) might benefit from a co-worked arrangement with a family, this should be explored by the supervisor/manager.
As a minimum at the point of allocation, a short summary set out in a Signs of Safety Format, will record any case discussion, decisions and action points arising. This record must be placed on the child(ren)'s Liberi record in the form of a Case Note by the supervisor. The recording of case allocation within Children's Social Work and CIC Teams and the Disabled Children and Young People's Service, is the responsibility of the allocated worker's supervisor.

11. Central Referral Unit and Out of Hours Team
The nature of work within this team does not lend itself easily to the traditional model of one to one supervision as workers within the team do not case hold. Management oversight is captured onto Liberi with a Managers Comment Case Note to give an initial view of the actions and direction required. Subsequent case discussion between the worker and the Team Manager are also captured on a Managers Discussion case note. Team Managers in addition, audit cases when the work has been completed and a case note is added to Liberi to reflect this. If further work is required this is recorded onto Liberi by the Team Manager with clear directions of what work is needed.
Formal supervision between a worker and their supervisor is carried out on a six weekly basis and will include discussion regarding the worker's decision making and case recording highlighting any concerns that have been raised. Formal supervision also includes a discussion regarding the worker's development and training needs, their performance in the service and any aspects of practice that have arisen.
Sessional social work and support staff working for the Out of Hours Service receive case guidance when they are undertaking work on behalf of the Out of Hours Team. These discussions are recorded on a child's file by the supervising manager and must outline the expected actions that are required. Team Managers in the service will also audit the work completed by sessional staff, to ensure it has been carried out in accordance with expected standards of practice.
Where learning and development needs are identified, these will be discussed with individual workers in a timely manner and a record of this discussion recorded on the sessional worker's internal Out of Hours Personnel File. If a concern is identified regarding a worker's general practice, this will be discussed with the worker regarding any further action required and the concern shared with the individual's manager in their district (day) team for further consideration.
Where concerns are identified regarding the potential welfare of a member of staff (for example, there is a worry that the number of OOH hours being worked might negatively impact on their performance in their substantive social work post, or the nature of work they have been managing in OOH is identified as emotionally distressing to them), this will also be discussed directly with the worker regarding further action that might be taken to ensure duty of care and support and where appropriate, concerns will be shared with the worker's district team (day) manager.

12. Supervision Records
12.1 Records Pertaining to Children's Case-Work
The recording of formal supervision sessions is the responsibility of the supervisor. For all case-work, discussion and recording will be conducted using a Signs of Safety approach and will consider:
What we are worried about;

The causes for concern, past harm, future danger and complicating factors;
What's working well;

Existing strengths, people, plans and actions;
What needs to happen – future safety and safety goals.
The detail included in the formal supervision record is a matter of judgement for the supervisor. In general the record should be detailed enough so that the issue, including the rationale for any decisions taken can be revisited at a later date and still be understood.
It is important that the wishes and feelings of children are captured in the recording of supervision and that the opportunity for reflection and reflective thinking is also recorded. Supervisors are prompted to look at chapters 11 and 12 in the accompanying Practice Guidance to support this process.
Capturing reflective discussions can be challenging, however the recording of key reflective questions that have been asked (e.g. those highlighted in the Anchor Principles in Appendix 9 of the Practice Guidance) and of the exploration that follows, is a good way of evidencing reflective discussions.
All case work decisions must be recorded on a Liberi case supervision form and a copy made for each of the children in the family discussed, within a maximum of one week. Decisions affecting only one individual child of a family should be recorded as such and only included in their personal Liberi record. For case decisions in the fostering service, any matter relating specifically to a child in the placement, should be forwarded to the allocated social worker for inclusion as a supervision record on their Liberi record.
12.2 Records Pertaining to Personal Supervision
Purpose
Personal supervision concerns the health, welfare, professional development, performance and other day to day personnel aspects of staff management and support. Records pertaining to personal supervision must be maintained separately from records of supervisory discussion for professional case-work interventions.
The record should detail the monitoring and support of the staff member's progress and welfare within their role and incorporate relevant aspects of health, welfare and functioning that may have an impact on their ability to undertake work either safely or competently. Equally, it should outline any potential relevant impacts on the staff member of the work being undertaken and why this may be significant, as well as managerial support being offered.
Where there are concerns about functioning or capability, or where the need for other supports are identified (including specific risk assessment for factors such as pregnancy), the support plan should be outlined in the supervision record (cross referenced to risk assessments where appropriate), to ensure clarity of expectation, reassurance and accountability (both re the staff member and the organisation).
Personal supervision records should also track workload and any impact factors, as well as hours worked/TOIL and Annual Leave to ensure that any connected welfare issues are considered and addressed within the organisation's duty of care. Within this, sickness absence should be understood and monitored to enable its consideration in the context of any possible links to work, capability, coping, etc. and to ensure support and risk assessment is considered where appropriate.
Professional development and career progression should be explored and monitored within personal supervision and plans for progression recorded within the guidelines for Kent's PDP process (and PDP review).
Celebrated and recognised good practice should be acknowledged and recorded, as should discussion for individual and specific areas of additional practitioner responsibility (e.g. supervision/practice education/lead responsibility of a particular area of practice).
Recording Process
Personal supervision should be typed on a consistent electronic form as attached at Appendix 2: Personal Supervision Record Template. The completed form should be uploaded into the worker's file in the team's secure, access-defined Personal Supervision Folder, located on the K-Drive. The supervisee and supervisor will have been set up to have access to the file, but otherwise, access should be controlled on a 'need to see' basis (see Confidentiality and Access, below). The member of staff who is subject of the personal supervision file will be able to save and/or print a copy of the record to be kept for as long as they wish. At the outset of the supervisory arrangement, the staff member should be advised of the system used to record personal supervision and of their right to retain their own copies of these records. They should be encouraged that in the interests of transparency, to ensure records remain unaltered and to safeguard both parties in the eventuality of investigations (e.g. disciplinary or complaints investigations), that they maintain duplicate records within a personally-held and separate file.
The typing of supervision notes can be completed by the supervisor, or delegated to an identified administration officer, although this will need careful consideration in respect of any personal information that should not be shared and should be with the agreement of the supervisee.
All records should clearly detail decisions that have been made and the reasons for these, any agreed actions including who will take responsibility and the timescales for carrying out these actions.
Case information relating to children should not be included in this record unless specifically relevant, either because of defined impact of the involvement on the worker, or because some aspect of the worker's history or experience is impacting/may impact on their practice. Case information recorded for this purpose must be anonymous and relevant.
The Personal Supervision file for each worker should also contain a front sheet recording key personal details relevant to professional recruitment, role and the organisation's duty of care in the event of an accident or incident at work. Specifically, manager's should record details of the staff member's vehicle insurance details to confirm appropriateness for business use if their role includes the transportation of clients/others in connection with KCC business and details of emergency contacts and next of kin to be available in the event of illness or accident at work.
Confidentiality and Access
1 to 1 supervision is a private, but not confidential process. This means that the records are the property of the organisation, not the individual. From time to time supervisors will need to discuss the content of supervision sessions with others e.g. their own line managers or records may need to be accessed by senior managers (e.g. for quality assurance purposes), investigating officers (e.g. for disciplinary purposes) or inspectors (e.g. Ofsted).They should however, be accessed only by those who have a 'need to know' and with a defined purpose at the time of access. The supervisee should be clear at the outset and within the supervisory agreement as to who might view their records and for what purpose.
Whoever has access, clear agreement between supervisor and supervisee regarding what is being recorded is crucial to confidence and thus, it is advisable that the record only contains information relevant to the professional role and as agreed with the supervisee. Where there is a level of disagreement, but a supervisor feels that it is necessary to record something they have been told (e.g. because of possible practice impact), the rationale should be explained, discussed and considered within supervision and records should document the outcome of those discussions.
Storage and Retention
Personal supervision records, along with the Supervision Agreement, documents relating to Personal Development Planning and appraisal and other relevant information (e.g. correspondence; sickness documents; risk assessments, etc), will be maintained on the staff member's Personal Supervision File within the secure team supervision folder on the K-Drive.
When a supervisee transfers to a new supervisor within their existing team, transfers to a new role within the same team, or transfers to a different service/area/district/team within the same Directorate, records should be transferred with them by changing permissions to the new manager/supervisor and moving the worker's file where necessary (being sure to remove permissions from previous managers who are no longer involved, to maintain continued parameters of confidentiality).
When a staff member leaves the Directorate or employment within the Authority, records are not transferred to a new employer, but do need to be retained to ensure availability in the event of future queries relating to safeguarding, or the response of the employer to matters of ill-health or welfare.
Personal supervision records held by Kent County Council will thus be maintained for a further period of no less than 6 years after an employee has left the employment of the Authority.

13. Quality Assurance of Supervision
This section should be read in conjunction with the Quality Assurance Framework which identifies the quality assurance tasks for all managers with regard to the social work task.
The quality assurance process ensures that the standards of supervision as outlined in this policy and the quality assurance framework are being followed and that:
All staff are being supervised professionally and effectively;
All supervision sessions are being recorded;
Individual Supervision Agreements for all staff are being developed, reviewed and used;
The supervision process promotes equal opportunities and anti-discriminatory practice.
Quality assurance arrangements should involve:
The Service Manager and Team Manager auditing one supervision file per month. This should include cross referencing with case files to quality assure decision making;
A discussion between the Service Manager and Team Manager/Supervisor about their practice in supervising their staff. This will be supported by the review of specific supervision records and any developmental needs identified thereafter;
Occasional local observations of supervision on a peer or managerial basis, to promote consistency, Supervision for Quality and to provide support and skill-sharing through the use of 'critical friends'. It is recommended that such observations take place once per year, although where managers are new to the supervisory role or are identified as needing additional support, a more frequent mentoring approach, including observation, should be set up locally with a skilled and competent manager;
Audit of supervision records by staff from the Safeguarding Unit as part of the overall programme of on-going case and specifically-commissioned audits.

14. Complaints and Disagreements
From time to time, supervisees and supervisors will disagree about matters to do with supervisory process or quality, or a supervisee may wish to raise a specific complaint about the supervision that they are receiving. It is expected that wherever possible, discussion should be sought directly between the parties in the first instance, in order to try and reach agreement on a way forward within the normal supervision process. If the concern or complaint cannot be resolved through discussion, the matter should be raised with the supervisor's manager for further consideration or mediation.
In situations where the supervisee feels unable to raise a concern direct with their supervisor (as a result of for example, concerns about bullying or insurmountable power-dynamics), the supervisee should seek to discuss direct with the supervisor's manager or alternatively (where this is not deemed possible) may defer to the Whistleblowing Procedure.
In some cases, there may be dissent between the supervisee and the supervisor concerning casework decision making. In the event that this disagreement cannot be resolved by discussion, the supervisee should raise the issue with their supervisor's manager and the Safeguarding Unit according to the Alerts Procedure for a Category 2 alert.

15. Performance and Capability Issues
On occasions there will be concerns that individuals consistently fail to meet reasonable standards of work or behaviour, this may be in relation to either performance or associated to health issues. In these instances reference should be made to the department's Performance and Capability Procedures.

16. Supervision Response to Serious Incidents (inc. the unexpected death of a child)
This section should be read in conjunction with the overall Families and Social Care "Guidance for Managing staff following a Child's Death or Serious Incident", contained within the
Serious Incident Reporting Protocol
.
Serious incidents, including the unexpected death of a child on a social worker's caseload may be traumatic, and may require additional support being provided to the case worker.
On hearing of a serious incident, involving a child on a social worker's caseload, the Team Manager (or in their absence, the most senior member of the team) should undertake to make contact immediately with the social worker to inform them of the incident and to arrange to meet them as soon as possible on that day. Workers must be treated with empathy and an acknowledgement made of the potential impact of the event on their well-being.
The support requirements of the worker need to be carefully considered and may include an opportunity to remain office-based for a period, or in significant situations, for the social worker to be offered compassionate leave. If there is a disagreement between the supervisor and the social worker as to the appropriateness of them staying in the work place, the final decision and recommended actions will rest with the Service Manager. In the event of a period away from the office, consideration should be given to a careful return to work plan.
The Team Manager should agree with the social worker what level and type of support they might wish to receive following a serious incident. This might include the identification of a "team buddy" not directly associated with the case. The agreement of any support offered should be recorded in the social worker's personal supervision notes and should include regular oversight and review of continued appropriateness.
The allocated worker must also be signposted to Support Line in the event of an incident likely to result in emotional impact, in order that they can (if they wish) receive confidential support from outside the team.
The allocated social worker should be kept informed of the progression of any investigations relating to the case within reason, including if a Serious Case Review is initiated by the Kent Safeguarding Children's Board (see Kent and Medway Safeguarding Children Procedures, Serious Case Review (SCR) Procedure).
In the event that a staff member remains off work due to ill health following a serious incident, the Team Manager must ensure that regular contact is maintained with the worker (including any appropriate support being provided through the identified buddy or named supervisor) and that where necessary additional advice is sought from HR regarding risk assessment, involvement of Occupational Health, etc.
In planning for a return to work, it is sometimes helpful to arrange a visit back into the office before the employee comes back to work. For some people, returning on a part-time basis for the few days can be helpful. It is natural for the employee to be less productive at first, and the manager should ensure that any health and safety considerations are dealt with in situations where reduced powers of concentration could put the employee or others at risk.

17. Useful Information and Documents

Appendices
Click here to view Appendix 1: Guidance on the Recording of Clinical Supervision and Management Oversight within the Post Adoption Support Service (found in the Forms/Signs of Safety Practice Guidance section of this manual).
Click here to view Appendix 2: Personal Supervision Record Template
End